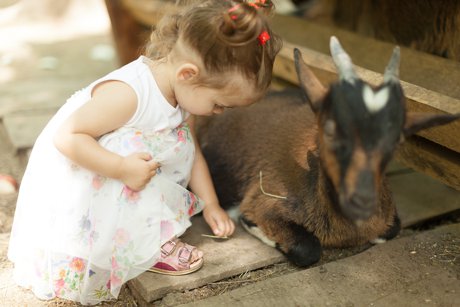 Simple fun awaits on Half Moon Bay real estate. Take a trip out to Lemos Farm and spend the day unwinding and unplugging. A variety of attractions and hands on activities create a lifetime of memories.
Hop aboard a hay ride and explore the ranch grounds bundled up in the hay. Train rides also meander around the landscape. The miniature locomotive chugs along the rails taking passengers through a Western town. Imagination run wild to times past when the wild, wild west was in full swing. Staying true to a Western theme, little kids can saddle up and enjoy a pony ride after.
Friendly farm animals wait in the petting zoo. Visitors can get to know goats, pigs, sheep and bunnies. Feed is available for these gentle beasts who happily accept the hand outs. Nearby in Playtown, youngsters get their wiggles out. Friends jump for joy in the larger then life bounce house. Wooden rocking horses are ready for trotting off. The playground is covered with kids climbing, sliding, smiling and laughing. Coin operated machines are entertaining in their simplicity. Marvel at a moving railroad train or covered wagon.
Find the Time for Fun when Living in Half Moon Bay
Fall is more than fabulous at Lemos Farm. Seasonal attractions are eagerly awaited. The haunted house frightfully delights. Two designs include a scary and non-scary version. Families living in Half Moon Bay search out perfect pumpkins to transform into jack o'lanterns. Pumpkins vary in shades and sizes seeming to impress everyone. Before ending the day trips are taken on the Ghost Train.
Locals flock to the farm for goat yoga. Goats stroll about the classroom interacting with attendees. While folks complete their moves these friendly animals wander over, under and on top of them.
Lemos Farm can be found at 12320 San Mateo Road. Tickets are available for a full day or individual attraction. Day passes for kids from 14 months to 70 lbs are $15, and adults are $5.